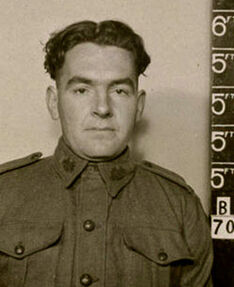 Keith Waldermar Mangnoson
Keith Mangnson was born on the 9th of May 1914 in Adelaide.
He left home at the age of 14, and worked on various farms in the country until early in 1940, when he got lost in heavy scrub country at near Nadda where he was engaged in wood cutting. After the lapse of several days he was found lying unconscious and suffering from severe sunburn in an empty horse trough. After spending several weeks in the Loxton Public Hospital under the care of the late Doctor Tanko, he was removed to the Royal Adelaide Hospital and later to the Convalescent Hospital at Magill. The doctor who was attending him at the latter informed Mangnoson's mother that her son was not responding to treatment and advised her to have him placed in the Enfield Receiving Home. He was taken to the Home where he remained for three months, and then his mother took him to a farm at Alma Plains where he stayed for a few weeks. [1]
Mangnoson enlisted in the Australian Imperial Forces On the 11th of May 1941, and served as a Private with the 2/48th Australian Infantry Battalion in the Middle East and later on in the Pacific Area, where he contracted malaria and suffered with war neurosis. On his return to Australia he was admitted to the Military Hospital at Northfield and remained there until he was discharged from the Services on February 7, 1945. He then returned to his mother's home at 12 Magarey Terrace, Largs Bay and remained there until he was married in the following May.
Early January, 1949, Magnoson told police that he believed the body to be that of Carl Thompsen, about 44, a man he had worked with in the Remnark district in 1939. He had not seen Thompsen since. [2]. 1939 was before he was lost in scrubland and was working on farms.
On the 2nd of June 1949, Keith and his young son Clive went missing. [3]