Police conducted an Australia wide search in an effort to locate a copy of 'The Rubaiyat of Omar Khayyam' with the word 'Tamam Shud' torn from it. After their intentions were published in a newspaper, an Adelaide businessman recalled that during November last year (1948), around the time of the Parafield Air Show, his brother-in-law had found a book lying on the back seat of his car, which at that time was parked in Jetty Road, Glenelg. Mr Minx handed the book to the police. The last page had the words "Taman Shud" missing. On the back of the book there was a telephone numbers and some pencilled capital letters. Tests were performed and was determined that the torn slip of paper found in the Somerton man's fob pocket had been removed from the book found in the car.
A few points to bear in mind.
1) There are varying reports as to how many telephone numbers were written on the book, the only one we know of for sure was the telephone number belonging to Prosper/Jestyn [X3239].
2) There are varying reports as to the occupation of 'Mr Francis'. Sometimes he is referred to as a Doctor, sometimes as a Chemist, and sometimes simply as a Businessman.
3) The name 'Ronald Francis' is a pseudonym invented by Gerry Feltus in his book The Unknown Man. We do not know his real name as it was concealed by the police.
Gerry Feltus claims to know who Ronald Francis is, and to have talked to him relatively recently. Obviously the man is quite old now and was unable to offer any additional information.
It is often stated that the car was left unlocked, I assume this is based on the fact that 'Mr Francis' claimed the Rubaiyat was found on the backseat of his car. I wonder whether this was really the case, he may have driven a convertible.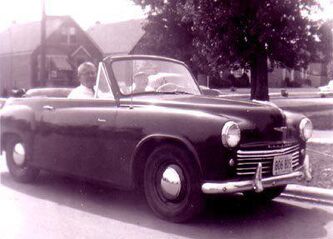 This is a 1951 Hillman Minx drop-head coupe. It would be quite simple to toss a book into a car like this as you walk past it.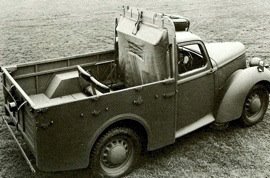 Another possibility is that if Mr Minx was a 'businessman' he may have used his Minx for transporting goods. Hillman produced large numbers of Minx-based utility vehicles, This is a 'Light Utility 2 + 2', shown here with the canvas top removed. The two rear seats were of the folding type. There were several modifications for the many production contracts. This is an early 'Mk1'.