AEC Leyland double-decker bus on Graymore to St. Leonards route c1950.
This is similar to the bus that the Somerton Man would have caught.This was taken where SM is supposed to have gotten onto the bus to St Leonards, outside the Grosvenor Hotel and directly across from the Train Station, Pie Cart, News Stand etc.
The bus ticket found on the Somerton Man's body was a 7d bus ticket. The ticket was shown to Edmond Leslie Hall of the Mucipal Tramways Trust [M.T.T.], he examined the ticket and stated that it had been issued by Conductor Arthur Anzac Holderness, on November 30th.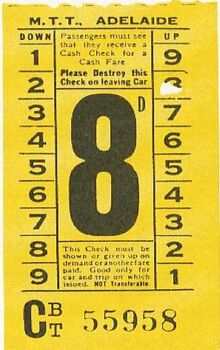 (This is an 8d bus ticket from a similar time.)
The 7d ticket numbered CBT88708 had been sold somewhere between the Adelaide Railway Station on North Terrace and the intersection of West and South Terraces where the cost fell to 6d.(CBT is the TLA for Canberra).
The ticket shows that it was issued on a bus that departed from North Terrace at 11:15am. The ticket in question was the 6th of 9 7d tickets issued on that trip. There had been 40 passengers in total on that trip however it is impossible to know how many where on the bus at any given time. The St Leonard's Bus ran every 30 minutes.
The St Leonard's Bus Route was:
West along North Terrace from opposite the Adelaide Railway Station,
South along West Terrace,
South-west along Anzac Highway,
North along Osmond Terrace
West along St Anne's Terrace
North along Todd Street,
East along McFarlane Street,
South along Osmond Terrace to the terminal on the east side of Osmond Terrace just south of McFarlane Street. Then East onto Anzac Highway to return to Adelaide Railway Station via West and North Terraces.
Ad blocker interference detected!
Wikia is a free-to-use site that makes money from advertising. We have a modified experience for viewers using ad blockers

Wikia is not accessible if you've made further modifications. Remove the custom ad blocker rule(s) and the page will load as expected.