Prestige is a pseudonym created by Gerry Feltus, in his book The Unknown Man, for Jestyn's husband.
His real name was Prosper McTaggart Thomson.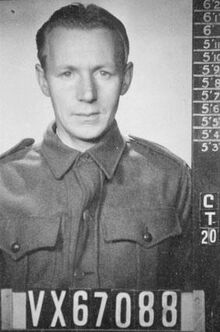 THOMSON PROSPER MCTAGGART : Service Number - VX67088 : Date of birth - 26 Oct 1912 : Place of birth - CHARTERS TOWERS QLD : Place of enlistment - CAULFIELD VIC : Next of Kin - THOMSON, QUEENIE.
Prosper married his first wife Queenie in 1936, aged 24. He was in trouble with the law on a few occasions, usually relating to motorcars. He didn't marry Jestyn until 1950, after his divorce from Queenie came through. Shortly before his divorce from Queenie, she was involved in plane crash, but she survived to tell the tale. He seems a bit of a shady character, but he did right by Jestyn. Jestyn was living with him prior to their marriage and was using his surname in 1948 when the Somerton Man's body was found on the beach.