Tie -Tootal Tie Standard Quality
X Grease resisting Patent No. 10835 Dec 14, 1927
(It should say CREASE resisting.)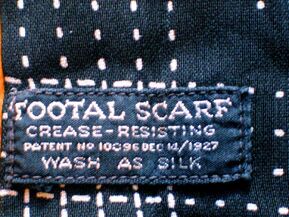 This is the label from an Australian Tootal's Scarf (rather than a tie). The Patent No. is 10896 rather than 10835, but it does have the right date. The patent relates to crease-resistance. It would seem reasonable to assume that 10835 would be a similar patent. It is perhaps worth noting that the label does not say 'Made in England' like most of the Tootal's ties that I have seen. This could show that the Somerton man's tie had been made in Australia.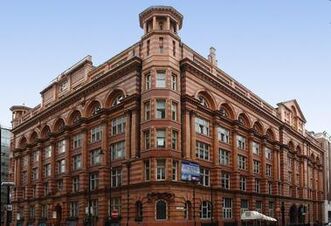 The Tootal Building - Joseph Gibbons Sankey designed this building for Tootal, Broadhurst, Lee & Company in 1898. It stands four storeys high, dominating the west side of Oxford Street with its red brick and banded fawn-coloured terra cotta. The ground floor and basement are rusticated. At either end of the frontage are lantern topped gable turrets. This was the home of Tootal Ties for many years. It has seven central bays separated by Corinthian columns. On its southern side it backs onto the Rochdale Canal flight of locks, hidden from the throng of passers-by above by a high parapetted bridge.
Ad blocker interference detected!
Wikia is a free-to-use site that makes money from advertising. We have a modified experience for viewers using ad blockers

Wikia is not accessible if you've made further modifications. Remove the custom ad blocker rule(s) and the page will load as expected.